WOODY'S WILDCAT WEEKEND
January 22 – 26
Daily Events & Deals All Weekend Long
Half-Priced XL Pizzas include: Wildcat Combos, Grateful Veg Combos, Pepperoni, Cheese
Half-Priced Pints include: Lagunitas Little Sumpin, Coors Light, Secret Trail Delta Breeze, Sudwerk California Lager, Sierra Nevada Pale Ale, Golden State Mighty Dry, Bon and Viv Spiked Seltzer
Available with valid CSU, Chico or Butte College Student ID, 1/22-26 in-store only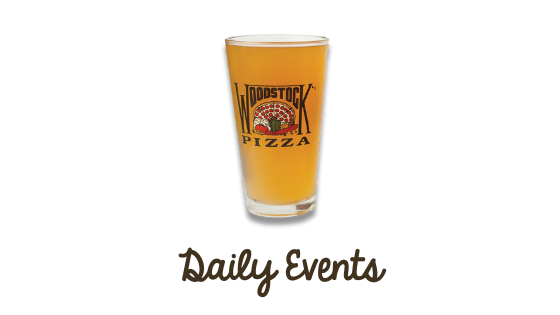 Wildcat Trivia Night (1/22)
A special Trivia Night featuring a round all on Chico State and Woodstock's trivia questions. The game starts at 8 PM, it's free to play, just show up early to sign in
Thirsty Thursday 1/23
Half-Priced Pints, during Pint Night, includes all taps 6-11 PM, PLUS, a Liter Challenge at 9 PM. Sign-ups start at 8:30 PM and winner(s) get FREE Pizza for a Year!
Friday 1/24: Game Night!
Join us for friendly competition starting at 8:30 PM, including Pong, Cornhole, Connect 4, Jenga, and more. Plus special prizes, raffles and more!
Saturday 1/25: Pizza Eating Contest
We're taking up to 10 teams of 5 each, it's a $20 buy-in, winning team gets Free Pizza for a Year for each team member! Stick around after the competition for Live Music at 9:30 PM. Click here to reserve your team's spot now!